Systems for
Gated Communities
We act as a permanent virtual guard, adapting to the surveillance objectives
What do we observe?
External perimeters and internal rings, income and expenses of owners, visits and suppliers, facilities, internal traffic, etc.

What do we protect it from?
Intrusions, loitering, threats to property, accidents, crime, daily conflict situations.


How do we act?
The situation is analyzed and action protocols are activated, according to their importance and urgency: Notice to previously established contacts, face-to-face guard, competent security forces, other entities acting in the event of accidents (for example: Firefighters).
Our camera system with analytical video, together with the work of our operators in a 24-hour monitoring center, differentiate any real event from false alarms, acting in the appropriate way.

Extra benefits
This tool allows formalizing the internal information circuit of news between Security Guards, Supervisors, Heads, Coordinators and Operational Base, achieving that action protocols are activated immediately.
In addition, we have control systems for employee entry and visits that are integrated with the camera system and people counting software, calculating the number of individuals who cross a virtual line or the time they remain in an area. It is especially useful to report the number of people who access a facility, visiting hours and peaks, etc.

Access control
We advise and carry out the installation of proximity and access biometric equipment: facial recognition, fingerprints.

Detector systems, readers, intercoms, vehicular barriers.

Processing of data obtained from these equipments.

Solution tailored to each client.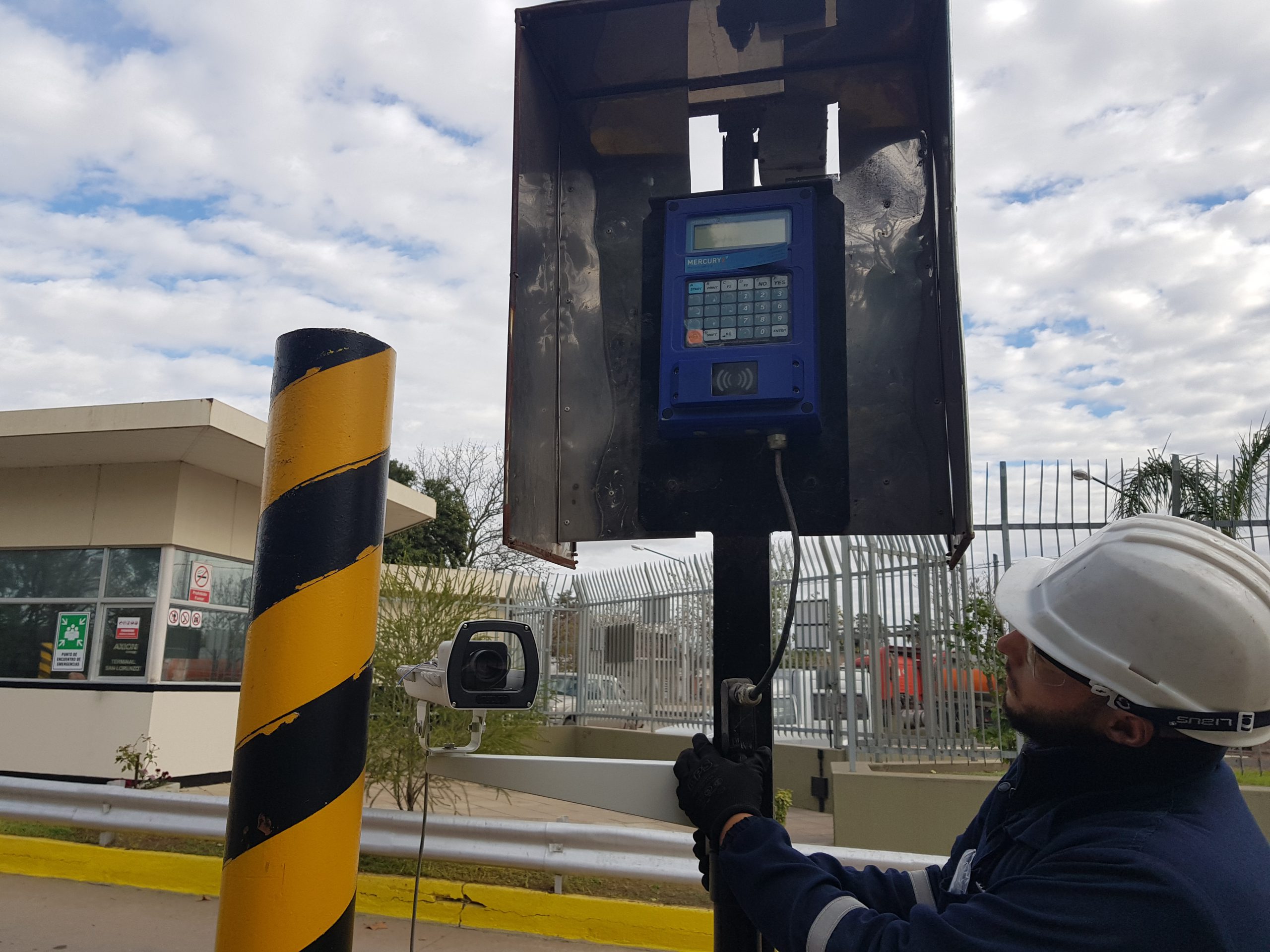 Networks and data
We design and build networks, fixed and wireless, providing turnkey solutions.

We provide effective and fast responses for network maintenance, with personalized attention and all our experience in service, guaranteeing the flow of data.
The Open Key iPark is a product developed to solve the specific problem of access to industrial parks. It is not an adaptation of an access control for industries or buildings.
Its salient features are:
It is a single access control system for the entire Industrial Park, contemplating pedestrian and vehicular entry of employees of the different companies, regular suppliers, visits and common suppliers such as deliveries, etc.
Each company manages its information in isolation from the rest, accessing it online to manage the registration and cancellation of its employees, visits and suppliers.
There is the possibility of generating reports of the entry and exit times of said employees.

Manage common resources like meeting rooms and amphitheaters. It also allows the management and control of lighting, emergency signal alarms, etc.
Generates an alarm at the gate when a visitor or supplier does not show up at the company that authorized their entry. The same procedure can be established for the check-out process.
It has a parking control module that manages the number of garages for each owner / company.
It keeps all the goals informed about what is happening so that it is possible to enter through one and exit through another.

It allows to automatically verify the contractor's ART expiration and the current regulations for vehicles and trucks (insurance, VTV, Route, etc.).

Generates all kinds of reports linking visits with visitors and their vehicles, allows to extract reliable operational conclusions, employee presenteeism reports, even associating them by cost centers.